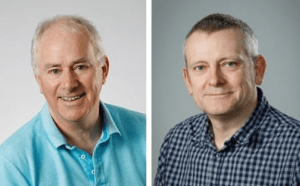 FEBS Letters is pleased to announce that the FEBS Letters Award 2022 will be presented to Dr Nicholas Mullin and Prof. Ian Chambers, from the University of Edinburgh, for their outstanding paper:
Phosphorylation of NANOG by casein kinase I regulates embryonic stem cell renewal
Nicholas P. Mullin, Joby Varghese, Douglas Colby, Julia M. Richardson, Greg M. Findlay, Ian Chambers (2021), FEBS Lett, 595: 14-25. doi.org/10.1002/1873-3468.13969
In this work, the authors show that NANOG, a key transcriptional regulator of pluripotency, is phosphorylated by casein kinase I and this impacts DNA binding and its ability to promote self-renewal. These novel findings indicate how phosphorylation may influence NANOG homeodomain interactions that underpin embryonic stem cell self-renewal. Self-renewal is a defining feature of stem cells and this new study adds to a better understanding of the epigenomic regulation of this process.
The award-winning article was selected by a special committee, formed by appointed members of the Editorial Board, plus one external member. The Award Committee members were: Laszlo Nagy, Nicola Gray, Mandy Jeske, Daniela Ruffell, and Michael Brunner (Editor in Chief and Chair).
Prof. Chambers will present a plenary lecture about this work at the IUBMB–FEBS–PABMB Congress in Lisbon, Portugal, 9-14 July 2022, where he will be officially presented with the prize.
---
For more information about this award, please see the FEBS Letters Award