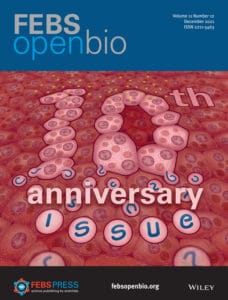 FEBS Open Bio, the youngest of the four FEBS Press journals, is celebrating its 10th anniversary this month. To mark this milestone, the journal has published a special anniversary issue, comprising editorials, reviews and research articles, all especially commissioned for the occasion. Eight members of the journal's prestigious editorial board contributed review and research articles on a diverse range of subjects. In addition, this issue includes the latest research by the authors of some of the most highly cited articles published in the journal in the last decade.
The journal invites you all to join the celebrations by checking out the contents of this issue below. We are sure there is something to interest everyone in the virtual pages of the issue, and thank all of our authors, reviewers, editors and authors for a very successful and productive decade!
Editorials:
Ten years of FEBS Open Bio
Duncan E. Wright and Miguel A. De la Rosa
In this editorial, the journal's Editor-in-Chief and Editorial Manager summarise the history of the journal and introduce the contents of the 10th anniversary issue.
FEBS Open Bio: past, present, and future
Duncan E. Wright, Felix M. Goni, Mary Purton, Laszlo Fesus, Johannes Buchner, John Mowbray and Miguel A. De la Rosa
In celebration of the 10th anniversary issue of FEBS Open Bio, we spoke to some of the key figures of the journal's genesis, development, and its future direction, and recount here their thoughts and experiences.
Learning objectives: an epiphany
Priscilla Soulié and Pierre Cosson
An editorial describing the use of learning objectives in the creation of a new Bachelor-Master curriculum in Biomedical Sciences at the University of Geneva in 2017, which will be of enormous interest to all educators.
Review articles:
Research articles:
Extracellular RNA transfer from non-malignant human cholangiocytes can promote cholangiocarcinoma growth
Yu Ota, Kenji Takahashi, Shin Otake, Yosui Tamaki, Mitsuyoshi Okada Irene Yan, Kazunobu Aso, Satoshi Fujii, Tushar Patel,  Masakazu Haneda
Tushar Patel et al. show extracellular vesicles can promote the growth of cholangiocarcinoma through the transfer of microRNA.
Caffeic acid: an antioxidant with novel antisickling properties
Tigist Kassa, James G. Whalin, Mark P. Richards and Abdu I. Alayash
Abdu I. Alayash et al. report on antisickling properties of the antioxidant caffeic acid with potential for sickle cell disease treatment.
Improvement of image resolution by combining enhanced confocal microscopy and quantum dot triexciton imaging
Simon Hennig, Dietmar J. Manstein
Dietmar Manstein and his colleague Simon Hennig of Hannover Medical School demonstrate quantum dot triexciton imaging with laser scanning microscopy can increase lateral and axial resolution.
Structural and functional insights into lysine acetylation of cytochrome c using mimetic point mutants
Inmaculada Márquez, Gonzalo Pérez-Mejías, Alejandra Guerra-Castellano, José Luis Olloqui-Sariego, Rafael Andreu, Juan José Calvente,  Miguel A. De la Rosa, Irene Díaz-Moreno
Irene Díaz-Moreno and colleagues at the University of Seville report that acetylation of lysines 8 and 53 in cytochrome c are crucial for thermal stability and function, illuminating cytochrome c extra-mitochondrial roles.